Discover more from Cornwall Football
A newsletter about the beautiful game in Cornwall
⚽️ Cornwall Football: Why Sticker AFC are a shining example of sustainability
Sticker AFC manager Steve Flack explains how shrewd investment and a community ethos have allowed the club to punch above their weight on the pitch – and ensure long-term security off it.
Welcome to the latest edition of the Cornwall Football newsletter.
The response so far has been fantastic – thanks to all who have subscribed and shared.
We'd love to hear from businesses interested in becoming a Cornwall Football newsletter headline sponsor.
Twice a week, the newsletter drops straight into the email inboxes of our rapidly growing audience, where it is opened and read enthusiastically by a high proportion of recipients.
If you're interested in reaching those readers, and supporting us in our quest to promote local football, please drop us an email at: info@cornwallsportsmedia.co.uk
---
⬇️ Inside today's newsletter ⬇️
⚽️ Why Sticker AFC are a shining example of sustainability

🏆 Trio triumph in Senior Cup quarter-finals

👀 What's on this weekend
---
⚽️ Why Sticker AFC are a shining example of sustainability
By Gareth Davies
Whoever runs Sticker's social media feed has a decent sense of humour. The small settlement that nestles between St Austell and the Clay Country is described by the club on Twitter as a 'one pub, one shop village'.
Of course there is a little more to Sticker than just a local convenience store and a traditional Cornish watering hole, but the tongue-in-cheek comment has substance and relevance towards the local football club and the rise to their current level. 
Little over 10 years ago, Sticker had only just entered the South West Peninsula League at Step Seven and by 2017, the club were rubbing shoulders with heavyweight local neighbours St Austell and St Blazey – towns with a little bit more than one pub and one shop. 
Some may look back on the club's rise as a fairytale, but under then player-boss Andrew Avery, who without doubt is lauded as a club legend at Burngullow Park, the Sticker class of 2016/17 swept all before them to win the South West Peninsula League Division One West title.
But since those heady days under Avery, things haven't been perhaps as rosy on the pitch as the club have struggled at Step Six, with Steve Flack taking charge during the summer of 2019.
Quite simply, the club have put their continuous existence and financial security over untenable dreams of chasing football's golden eggs. 
Off the pitch, Sticker have invested wisely – very wisely indeed. New floodlights, new changing rooms and excellent facilities for the club's hardy bunch of supporters – some of the most knowledgeable and friendly in Cornish football, it must be added. 
Then there is the playing surface at Burngullow Park itself, expertly tended to by dedicated club groundsman Clive Julian, who has won several awards from the Cornwall Football Association over the years.
Despite the poor weather that seems to blight the local football scene with alarming regularity every winter, it's rare a game is ever called off at Sticker, a fact that's not lost on Flack after his side were defeated 4-2 by Dobwalls last weekend.
"We were one of the only teams to get a game on today and that speaks volumes about this club," he told Cornwall Sports Media after the match.
"The work the guys do on the pitch to keep it pristine is amazing and why more clubs don't spend their money on pitches not being waterlogged every week, I don't know. That is perhaps a conversation for another time although our committee very much believe in sustainability and that is paramount.
"Although the result against Dobwalls didn't go our way, the mood in the camp is very positive because we have to remain positive. We realise the situation we are in currently in terms of budget and the funds we have to put the team on the pitch."
If anything, Flack is a realist, too honest for his own good perhaps at summing up the situation his team find themselves in but they more than matched Dobwalls, something that isn't lost on the Burngullow chief.
He added: "I can never fault the players' attitude, spirit or commitment and we train on a Tuesday and a Thursday. We always have good numbers and we have a real mix of younger players and more experienced players too. We have someone like Dan O'Hagan playing up top for us this season and he is at the back end of his career.
"But despite the age difference, there is still a real unity within the squad and we have to have that or you go down the route of Godolphin, Penryn or Porthleven and you fold.
"We will never do that and sometimes it is every manager's headache when you have five players on the bench, but another week I might not have anyone on the bench at all. That's football at this level because they have holidays, they have to work, trips away, all those kinds of things.
"It is nice to be able to leave players out, but you then need to have long conversations with those you are leaving out. Part and parcel of managing is spending time before matches telling players why they aren't even on the bench. Sometimes it's easier when you don't need to do that." 
If Flack's job seems like a thankless one at times currently, by competing with those teams challenging for promotion to a restructured Step Five next season – with the Western League and SWPL merging into one league – the 2023/24 campaign could and perhaps should be much more fruitful for Sticker and clubs run with a similar ethos.
With four teams promoted to the new division at Step Five, meaning those with the deepest pockets for players will be out of the picture, a more competitive campaign should ensue with Flack highlighting that light does appear to be at the end of the tunnel.
"The situation next year will be a far more even playing field," he remarked. "Four will go up to the Western League and then the knock-on is another alteration to Cornish football. 
"It might be that we can fare better in this type of league at this level next season but we won't change how we do things. 
"For our young players specifically, we do a lot of coaching with them and some have been through academies already. For three or four, especially in our defensive areas, they have never been coached and have just played.
"We will always look to improve our players but we have tried other things too. Players have come to the club that are used to being at clubs with a better budget, but that hasn't really worked because they have played a few games and decided to move on to somewhere else for more money.
"It is disappointing and it is frustrating but I have spent too much effort chasing those players when I should have been putting more effort into galvanising the boys that are already here."
[Featured images: Colin Bradbury / Cornwall Sports Media]
---
📰 Sponsor this newsletter
Are you a business interested in supporting the Cornwall Football newsletter through sponsorship or advertising?
Drop us a message on: info@cornwallsportsmedia.co.uk and let's talk. 
---
🏆 Trio triumph in Senior Cup quarter-finals
We may have had to wait a week longer than we'd initially hoped, but the Cornwall Senior Cup semi-final line-up is finally complete after this week's trio of tasty quarter-final ties.
Liskeard Athletic, Wendron United and Saltash United join Helston Athletic in the final four after the former three clubs all emerged victorious in their rearranged fixtures this week, with Matt Cusack's Blues already safely through after their tie at Godolphin Atlantic was voided due to the Sky Blues' withdrawal.
The tie of the round was undoubtedly last night's nine-goal thriller at Waterways Stadium, which saw SWPL outfit Wadebridge Town lead their Western League hosts Saltash 4-3 after just 35 minutes, only for Danny Lewis' Ashes to triumph 5-4 in the end.
Wendron required extra time to finally see off a stubborn Penzance in an all-SWPL affair at Penlee Park on Wednesday, while Liskeard dumped out higher-division Millbrook on Tuesday night.
Let's start with that goal-fest in Saltash…
⚽ Good start: Harrison Davis puts the home side in front early on. 1-0 (12')

⚽ Two up: It's a quick second for Saltash as Adam Carter tucks home a rebound from close range. 2-0 (16')

⚽ One back: Tom Shepherd gets the Bridgers on the board with a lovely strike. 2-1 (19')

⚽ Level: Aaron Dilley restores parity with a fine free-kick. 2-2 (24')

⚽ Spot-kick: The Ashes win a penalty and Dave Barker makes no mistake from the spot. 3-2 (31')

⚽ Level again: We're all square again thanks to Jacob Rowe's finish. 3-3 (33')

⚽ Turnaround: Unbelievably, Wadebridge are now in front courtesy of Shepherd's second of the night. 3-4 (35')

❌ Missed: Saltash have the chance to draw level from the spot but the penalty is missed! 3-4 (75')

⚽ Extra time?: But they are level now and it's Carter who bags his second of the day! 4-4 (83')

⚽ Or not: With extra time looming, Saltash have only gone and won it with Carter completing his hat-trick. What a game! 5-4 (87')

📋 Saltash: Duffey, Barker, Martindale, Elkington, O'Brien, Davis, Cairo, Farrant, Carter, Spencer, Lewis. Subs: Smith, Hughes, Merrin, Bleasdale. 
📋 Wadebridge: Rosevear, Harris, Dilley, Strike, Simmonds, Shepherd (Flew), Reski, Gerken, J Rowe, Lloyd, Vallejo (Beare). Subs (unused): Sargent, B Rowe.
---
And here's the lowdown from Penlee Park as Wendron ran out 2-0 winners at Penzance, courtesy of two goals in extra time…
⚽ Finally: It's taken three minutes of the additional 30 to find the breakthrough, but Wendron forward Josh Wood is the man to put the Dron on the brink of the semi-finals as he turns in the rebound from Charlie Young's initial effort. 0-1 (93')

🗑️ In the bin: Penzance's hopes aren't helped by goalkeeper Will Trenoweth being sent to the sin bin by referee Paul Kempen for protesting that goal a little too vociferously, with Kameron Collins donning the gloves for the remainder of the first period of extra time. 0-1 (93')

⚽ Job done: And Wendron make the most of the extra man with Wood securing a third successive semi-final appearance for the visitors, slotting in the rebound after former Magpie Jacob Cleverly's shot is saved by stand-in gloveman Collins. 0-2 (105')

📋 Penzance: Trenoweth, Reynolds, McCabe, Andrew, Vercesi, Tonkin, Trudgeon, Collins, Sumnauskas, Richards, Sullivan. Subs: Daniell, Everard, Snowden, Flores, Hicks. 
📋 Wendron: Fearn, Souch, Carroll, Palmer, May, Cleverly, Reeve, Potts, Young, Stocker, Wheat. Subs: Chapman, Wood, Scoffin, Rundle, Stone.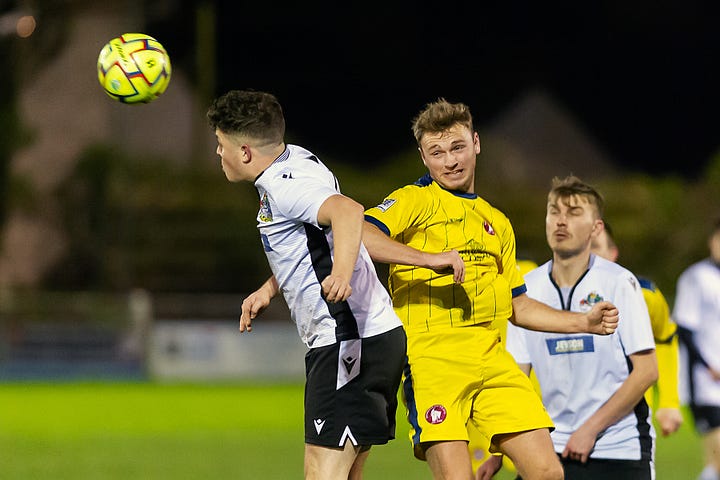 ---
And here's the story of Tuesday night's tie at Jenkins Park as visitors Liskeard Athletic saw off Western League outfit Millbrook…
⚽ Off to a flyer: It's the perfect start for Mackenzie Brown's side as Tylor Love-Holmes fires in from Sam Cox's cross to open the scoring for the home side. 1-0 (7')

⚽ Back on terms: Liskeard are level just before the break with centre-half Dylan Peel nodding past the home goalkeeper from a free-kick. 1-1 (41')

⚽ Comeback: Peel bags his second of the night from another set piece in the dying embers to send the eight-time winners into the semi-finals! 1-2 (86')

📋 Liskeard: Borthwick, Mullis, Outtram, Woods, Peel, Jeffrey, Hill, Richards, Podmore, Jennings, Collins. Subs: McCarthy, Bowker, Raglan, Bartlett, Gilbert.
---
👀 What's on this weekend
⚽️League One: Saturday, 3pm: Plymouth Argyle v Cheltenham Town.
⚽️Southern League Premier South: Saturday, 3pm: Truro City v Merthyr Town.
⚽️Western League: Saturday, 3pm: Ashton & Backwell United v Saltash United; Barnstaple Town v Falmouth Town; Helston Athletic v Keynsham Town; Millbrook v Street; Mousehole v Welton Rovers; Sherborne Town v Torpoint Athletic.
⚽️South West Peninsula League Premier West: Friday, 7.30pm: Bodmin Town v St Blazey. Saturday, 2.15pm (unless stated): Bude Town v St Austell; Callington Town v Penzance (3pm); Camelford v Dobwalls (3pm); Liskeard Athletic v Newquay; St Dennis v Mullion; Wadebridge Town v Launceston.
🏆Cornwall Junior Cup fourth round: Saturday, 2pm: Constantine v St Breward; Falmouth DC v Mevagissey; Gorran v Bude Town; Ludgvan v Bodmin Town; Saltash United v Dropship; St Merryn v West Cornwall; Troon v Grampound.
⚽️South West Regional Women's Football League Premier Division: Sunday, 2pm: Royal Wootton Bassett Town v Liskeard Athletic.
⚽️South West Regional Women's Football League Western Division: Sunday, 2pm: Saltash United v Budleigh Salterton; Sticker v Bideford.
⚽️Cornwall Women's Football League Division 1: Sunday, 2pm (unless stated): Bodmin Town v Saltash Borough; Foxhole Stars v Bude Town; Mousehole v Helston Athletic; RNAS Culdrose v FXSU (2.30pm).
⚽️Cornwall Women's Football League Division 2: Sunday, 2pm (unless stated): Dropship v Ludgvan (2.30pm); Padstow United v Wadebridge Town; St Agnes v Charlestown (2.30pm); Wendron United v Callington Town.
⚽️South West Regional Women's Football League Western Division: Sunday, 2pm: Marine Academy Plymouth v Sticker; Saltash United v Activate.
⚽️Cornwall Women's Football League Division 1: Sunday, 2pm (unless stated): Foxhole Stars Bodmin Town; v FXSU v Helston Athletic; RNAS Culdrose v Mousehole (2.30pm); Saltash Borough v Bude Town (2.30pm).
⚽️Cornwall Women's Football League Division 2: Sunday, 2pm (unless stated): Charlestown v Padstow United; Ludgvan v Wendron United; Redruth United v Wadebridge Town; St Agnes v Penryn (2.30pm).
---
📰 Sponsor this newsletter
Are you a business interested in supporting the Cornwall Football newsletter through sponsorship or advertising?
Drop us a message on: info@cornwallsportsmedia.co.uk and let's talk. 
---
The Cornwall Football newsletter is now being published twice a week. As well as your regular round-up every Monday, subscribers will now receive a second post, like this one, every Thursday.
Follow us on Twitter: @sportscornwall
Visit our website: cornwallsportsmedia.co.uk