Discover more from Cornwall Football
A newsletter about the beautiful game in Cornwall
⚽️ Cornwall Football: Truro City FC Community Hub - What you need to know
Truro City's stadium saga took another big turn on Tuesday with the unveiling of scaled-down plans for their new home. What does it all mean? Cornwall Sports Media answers the big questions...
Welcome to the latest edition of the Cornwall Football newsletter.
The response so far has been fantastic – thanks to all who have subscribed and shared.
We'd love to hear from businesses interested in becoming a Cornwall Football newsletter headline sponsor.
Twice a week, the newsletter drops straight into the email inboxes of our rapidly growing audience, where it is opened and read enthusiastically by a high proportion of recipients.
If you're interested in reaching those readers, and supporting us in our quest to promote local football, please drop us an email at: info@cornwallsportsmedia.co.uk
---
⬇️ Inside today's newsletter ⬇️
🏟️ Truro City FC Community Hub - What you need to know

⚽️ How one goalkeeper turned to refereeing for a second chance in football

👀 What's on this weekend
---
🏟️ Truro City FC Community Hub - What you need to know
On Tuesday night, representatives from Truro City FC and the Cornish Pirates invited the public to the Threemilestone Community Centre to view the new plans for the much-anticipated stadium at Langarth near Truro.
Matt Friday and Colin Bradbury were there for Cornwall Sports Media.
The new project, the Truro City FC Community Hub, represents a significant scaling back of the previous Stadium for Cornwall blueprint. In its final form, that project envisaged a 10,000-seat ground with multiple additional facilities attached, but was ultimately abandoned due to lack of funding.
Here's an overview of the project, with answers to the questions that are likely to be at the front of people's minds.
What will the new facilities look like?
The new proposal appears to be much more achievable than the Stadium for Cornwall. Initial plans provide for:
A 3,000-capacity stadium with a second artificial pitch alongside for community use.

A main pitch with four covered stands, providing covered spectating for up to 1,690 supporters.

The community pitch, which will have an artificial surface and will be available for community use, also offers 50 covered seats.

Covered outdoor fan zone and food and drink facilities.

Two-level clubhouse, with changing rooms and associated facilities on the ground floor and, on the second floor, a bar, member's lounge and director's lounge.
(We provide more detail on the proposed layout and facilities at the end of this piece)
Is the financing in place?
Given the repeated false-starts over the years, there is, inevitably, widespread scepticism in the community towards the whole stadium project.
At the heart of this is funding, since previous proposals failed largely because the money simply was not there. The build cost for the previous Stadium for Cornwall plan spiraled way beyond the £14.3m original estimate (to north of £20 million according to some sources), becoming financially unviable.
The total estimated total build cost for the new facility is much more modest at around £5 million, and funding plans are considerably more realistic.
Truro City have around £2.3 million available, primarily in the form of Section 106 funding (money from the sale of the Treyew Road ground that is ring-fenced for the provision of an alternative home for the football club). Truro City FC football consultant, Alex Black, says that those funds will be sufficient to cover the cost of the main pitch, stands, clubhouse and changing rooms.
A further £1 million will be required for the second pitch, which will have an artificial surface and will be available for community use. The club is currently in discussions with the Football Foundation about financing that part of the project and are very optimistic that funding will be forthcoming.
"We've been working with the Football Foundation quite closely and they've highlighted that there's a shortage of facilities (in Cornwall)," Mr Black said. "I think they're even looking to do a second one down at Boscawen Park, that's how short we are of facilities in this area."
The balance of the £5 million cost relates to infrastructure works around the stadium and second pitch – leveling the site, providing services etc. - which would be the responsibility of Cornwall Council rather than the football club.
Again, it appears likely that funding for that will be forthcoming. The Council is already planning for a sports facility of some description on that site as part of the larger Langarth development, and the Truro City stadium would deliver a superior facility at a lower overall cost. On the face of it then, there appears to be no reason for the Council to baulk at doing the required work.
It's also encouraging that Councillor Dulcie Tudor, who represents the surrounding Threemilestone area on Cornwall Council, is very positive on the project.
"It's the jewel in the crown of Langarth Garden Village as far as I'm concerned," she said, "so I'm really pleased that sports provision is happening there. I'd like people of all ages to be able to use the facility. The meeting rooms, the bar, can be used for community events and I see the outside fan zone area - there's already talk of farmer's markets and community events [to be held there].
"In the master plan design [for Langarth] this was written in as the sports hub end of the garden village. If only every new village and new town could have a stadium in it, it'd be great."
What about timing?
The second big issue, given how long the stadium saga has already dragged on for, is timing. Mr Black said that the planning application should go in next week and that it should take around six to eight weeks to get planning (permission).
"If that goes through, we're hopefully starting work in the spring."
He is optimistic about the outcome of the planning application.
"This needs planning permission, but obviously we've been working very closely with Cornwall Council and the planning department in putting this whole scheme together. They've been very supportive.
"Some work has already commenced – access routes, drainage etc. - because planning permission has already been granted for a much larger facility. We're hoping that as it's a much smaller version of what's already been approved, there are no reasons why there should be a major issue. But until you've got it you never know."
Once approval is secured, Mr Black is confident that work will progress relatively quickly.
"Because the stands and the clubhouse are going to be steel constructions, a lot of the works can be done away from the site, brought in and put together," he added. "So once we do start from the ground up, we can be pretty rapid with it. We're just going to go as fast as we physically can to get it done."
So when are Truro City likely to be back home in Truro?
"As soon as we can," Mr Black said. "Hopefully at some point next season, that's what we're aiming for. But no later definitively than the start of the season after next (2024/25)."
Approval will be required from whichever league the club are playing in at that point, so a reasonable guess would be that the stadium would have to be completed by March/April 2024 in order for the club to move there for the start of the season in August.
Would the stadium be suitable to host higher-level football?
Yes - the stadium will also meet the requirements of higher-level football, should the team gain promotion. "It's National League South level," Mr Black said, "but could very easily moved to National League level, and could also become a Football League facility. Obviously, that would need investment, but it's futureproofed."
Where will Truro City play next season?
Which leads on to the question of where the club will be playing at the start of the 2023/24 season. Mr Black acknowledges that any agreement with another club to use their ground would have to be in place for the whole of that season.
"I don't know where we will be," he said. "We're looking at a variety of options, and I've got to sort something out quickly, haven't I? We're going to have conversations with Plymouth Parkway but there's nothing agreed for next year yet."
He also indicated that they have not ruled out an alternative venue in Cornwall.
"We're also exploring every possible opportunity we can to get us closer to home," he said. "I wouldn't like to give you the feeling that that's likely to happen, but there's an outside chance. But I went to look at a couple of possible places yesterday and you get there and realise there's no chance. That's the reality: people have good ideas and when you start exploring them it doesn't pan out. [That's due to] works required, standard of pitches, all sorts."
On balance then, another season at Parkway's Bolitho Park ground looks the most likely outcome for Truro City.
Will the Cornish Pirates move to the new stadium?
The other issue is the potential involvement of the Cornish Pirates Rugby Club, the owners of Truro City, in the project. The Pirates have stated that they would like to relocate to Truro from their Penzance home, where they have been for some 13 years.
Sharing the stadium with the football club would, however, require a different playing surface given that a regular grass pitch would not be robust enough to deal with a full calendar of football and rugby fixtures. A so-called Desso hybrid pitch, which mixes artificial fibres and grass, and which is widely used in top-flight football, would be suitable, but comes at a considerable cost.
That cost could not, and would not come out of the Section 106 funding since that is earmarked exclusively for the football club.
Hence the Pirates say: "We are also working really hard in the background to raise the additional investment to allow the new facility to still become a home for the Cornish Pirates. The playing surface is key to this to sustain both sports week in week out and it is hoped to be able to incorporate this into the initial build if the investment can be raised."
However, the Pirates' CEO, Rebecca Thomas, emphasised that the search for funding for the hybrid pitch would not delay the stadium build schedule. If the funding is not in place, a grass pitch for the use of Truro City would be laid.
The intriguing possibility has also arisen of Cornwall RLFC relocating to Truro from their current Penryn base. Since rugby league is a summer sport, that would fit perfectly, meaning that the stadium could be used all year round. And since the football and rugby league seasons barely overlap, sharing the stadium would not require the installation of a hybrid pitch. Conversations with the RLFC have already taken place.
What's in it for the community?
It's clear that the new stadium would be regarded as a significant asset for the surrounding community. The second pitch would be at the heart of this, helping to redress the chronic lack of such facilities in Cornwall currently.
"I'm no expert on football…but I am an expert on community, that's my job and I'm interested in how this stadium fits in with the surrounding community," Cllr Tudor added. "My priority is Threemilestone Football Club and how they can use the facility. I would hope that they'd get first dibs, if you like, on that second pitch and use of the facilities as well.
"I would like to see the football club reaching out to the local schools, and I'd like people of all ages to be able to use the facility – even the meeting rooms, the membership rooms and the bar. They can all be used for community events."
Summing up, Mr Black said: "It feels like a lot of blood, sweat and tears to get to this point, but we think we've got something which is achievable. it's going to give everybody lots of opportunities, and for us as a football club, the only way we're going to thrive and succeed is to engage fully with thecommunity and work with them.
"We've been able to do little bits, like setting set up our reserves and our under-18s, but we can't really get into it when we've got no home. Once we get a home it really allows us to push on with these plans properly and do the things we want to do."
He added: "It doesn't just benefit the football club and get Truro City back to Truro, which is our main goal, but the added bonus is it can be a fantastic, much-needed facility for the whole of the community with two pitches there. It's going to make a massive difference."
Truro City FC Community Hub: The details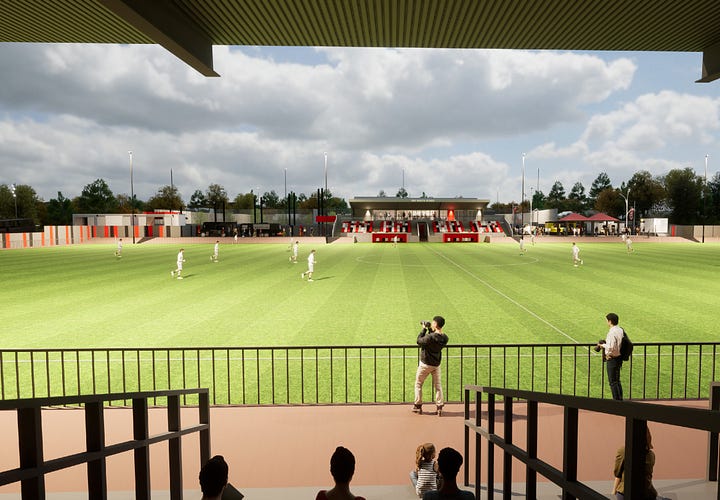 The site, located adjacent to the Langarth Park and Ride and situated approximately five kilometres west of Truro city centre, allows for two full sized football pitches - the main grass pitch and an artificial community pitch - at two different levels and a clubhouse in between.
Also included are four covered spectator stands, turnstiles, coach parking and fan zone, while an attenuation pond to the north of the site will deal with rainwater runoff and help drain the site.
Vehicle access will be limited on site to player coaches, emergency services and disabled parking, with visitors able to use the adjacent Langarth Park and Ride transport hub which comprises 1,209 parking spaces.
The main pitch and community pitch are 103.3 x 68m and 100 x 64m respectively, with the main pitch providing covered spectating for up to 1,690 spectators and the community pitch providing 50 covered seats.
The main pitch includes:
North stand providing covered seating with toilets at either end

Two covered standing areas behind either goal

South stand providing 360 covered seats

Covered outdoor fan zone and food and drink facilities
The proposed clubhouse, located within the south stand, has a gross internal floor area of 559m² provided over two levels:
The ground floor comprises two changing rooms for 22 players and staff each, two changing rooms for officials, a laundry room, a kit store and a community meeting space for training, game analysis and interview opportunities.

The first floor comprises a members lounge with match day hospitality for up to 250 club members, which can also be used as a community event space on non match days. Also included are a director's lounge, a bar, male and female toilets and a roof terrace.
---
📰 Sponsor this newsletter
Are you a business interested in supporting the Cornwall Football newsletter through sponsorship or advertising?
Drop us a message on: info@cornwallsportsmedia.co.uk and let's talk. 
---
⚽️ How one goalkeeper turned to refereeing for a second chance in football
By Tom Howe
Match officials are the unsung heroes of our beautiful game. Sustaining sanity amongst the chaos, they largely see headlines for the wrong reasons, their split-second decisions analysed and often vilified for all time.
Praise seems set to one side for the 30-yard screamer, the one-handed save or the inspired substitution but what of those who waved play on so the attack could continue or had a word in an ear to prevent a needless sending off?
Officiating has been described by this week's newsletter star as 'a thankless task' but, nevertheless, one he relishes as he takes the next step on a footballing path less trodden.
His name is Dale England and, being a goalkeeper, he is used to taking a hands-on approach when it comes to his career. However, when serious injury struck 12 months ago, the now 28-year-old was left with a decision to make. 
"There was talk of surgery and I wouldn't have been able to do what I used to be able to do [on the pitch]," England told Cornwall Sports Media. "I decided to take a while out and that was when refereeing came along for me."
Having been put forward for trials, England cut his footballing teeth in the youth system of Plymouth Argyle, joining at the age of ten and remaining with the Pilgrims until under-16 level. 
While spending time with his brother at their local club, Plympton RBL, England would come to the rescue of clubs higher up the pyramid and provide cover between the sticks when required. 
As a 20-year-old, England made the move to Plymouth Parkway, combining appearances for the Bolitho Park outfit with a coaching role within the club's Academy. Since then, he has gone on to don the gloves for the likes of Godolphin Atlantic, St Blazey and Bodmin Town.
It was whilst with the latter that England suffered a potentially career ending blow, tearing the AC joint in his shoulder when coming out to claim a cross. An elbow to the area caused particular damage and, having not healed sufficiently to make a complete comeback, England was left mulling his options.
England had already passed an initial refereeing test to widen his footballing knowledge and with a view to potentially taking up the whistle in years to come. Circumstances persuaded England to bring forward those plans and, a year on, he is celebrating promotion to level six, refereeing in the East Cornwall Premier, Duchy and Trelawny Leagues whilst also running the line at South West Peninsula League level.
"I'm looking back and thinking some of my own cards might have been justified," he joked. "It is new and different but I am getting to the point where I am more excited to be in the middle than I was when I was playing. When I was at Argyle I wanted to go all the way but I'm 28 now so that is long gone. There's not going to be a Jamie Vardy story.
"The next best thing for me was to get involved with refereeing. You look at people like (local English Football League officials) Simon Long and Lee Swabey. There is a clear pathway and that is where I want to be heading in the next few years. 
"You have got to be a certain type of person. If you take things to heart, it is probably not the right thing for you. I'll pull in the captains and say I'm not a Premier League referee and you are not Premier League footballers. We are both going to make mistakes. I'll stay off your back and you stay off mine. 
"We have all turned up to have a kick about so let's keep it like that. Nine times out of ten you will get a flashpoint that requires you to take a step back. Can you deal with five, six, seven players around you while also keeping an eye on what might be happening behind you? It can be a thankless task."
Upon his appointment as the Premier League's new head of refereeing, Howard Webb encouraged more ex-players to take up the whistle, admitting: "We've always struggled to get ex-players involved but I'm sure somebody out there will want to be a trailblazer.
"Somebody who's played a decent career and has got a good knowledge of the game. We would welcome them wholeheartedly."
When the quotes were out to him, England quipped: "It is weird. Being a 'keeper, I am used to taking control of a game and having 21 players in front of me. I am now trying to adapt that into refereeing. 
"The most difficult part is getting your head around the fact that you are not the player, you are the referee. What you might think would be harsh against your own team…you have to flip your mind and remind yourself it is for the right reasons.
"I have been around Peninsula League football for ten years and am relatively well known wherever I go, be it refereeing ex-teams, ex-teammates or teams that I have played against. 
"I've found that, when you get to referee a higher standard of football, you need to manage personal relationships that you have with those people outside of football."
He continued: "You hear questions about why ex-players don't go into refereeing, or why they don't do this or do that. 
"I have played at a reasonably good standard and have got that knowledge so why not give it back? Find a course and sign up. It doesn't cost a lot and, at the end of it, you are going to get a qualification. If you like it, great. If you don't, you can go back to playing or whatever but I think everyone should give it a go.
"I can't speak highly enough of (Cornwall FA's) Luke Wilkes and Lee Swabey. Whenever I have needed anything, they have been available. Lee was working at a Forest Green Rovers game and, while at the ground, has taken the time to call me and go through my questions. 
"You can't do it all on your own straight away. You need that support and, as far as Cornwall FA go, it has been great. I want to play but as time has gone on, I am picking up more serious injuries. Never say never but as it currently stands, refereeing is where I am heading."
If this article has inspired you to dig deeper, further information on becoming a referee in Cornwall can be sought by visiting https://www.cornwallfa.com/referees or contacting the county FA office on 01208 269010.
---
👀 What's on this weekend
⚽️Southern League Premier South: Saturday, 3pm: Weston-super-Mare v Truro City.
⚽️Western League: Saturday, 3pm: Cadbury Heath v Saltash United; Falmouth Town v Ilfracombe Town; Helston Athletic v Ashton & Backwell United; Millbrook v Welton Rovers; Street v Mousehole; Torpoint Athletic v Bridgwater United.
⚽️South West Peninsula League Premier West: Saturday, 2.15pm (unless stated): Mullion v Liskeard Athletic; Newquay v Launceston; Penzance v Dobwalls (3pm); St Austell v Bodmin Town; St Dennis v Callington Town; Sticker v Camelford (3pm); Wendron United v Bude Town (3pm).
🏆Cornwall Women's Football League Cup: Sunday, 2pm: Ludgvan v Helston Athletic.
⚽️FA Women's National League Division One South West: Sunday, 1pm: St Austell v Selsey.
⚽️South West Regional Women's Football League Premier Division: Sunday, 2pm: Forest Green Rovers v Liskeard Athletic.
⚽️South West Regional Women's Football League Western Division: Sunday, 2pm: Budleigh Salterton v Saltash United; Feniton v Sticker.
⚽️Cornwall Women's Football League Division 1: Sunday, 2pm): Bude Town v Bodmin; Foxhole Stars v RNAS Culdrose; Mousehole v Saltash Borough.
⚽️Cornwall Women's Football League Division 2: Sunday, 2pm (unless stated): Callington Town v Penryn (2.30pm); Charlestown v Redruth United; Padstow United v Wendron United; Wadebridge Town v St Agnes (2.30pm).
---
📰 Sponsor this newsletter
Are you a business interested in supporting the Cornwall Football newsletter through sponsorship or advertising?
Drop us a message on: info@cornwallsportsmedia.co.uk and let's talk. 
---
The Cornwall Football newsletter is now being published twice a week. As well as your regular round-up every Monday, subscribers will now receive a second post, like this one, every Thursday.
Follow us on Twitter: @sportscornwall
Visit our website: cornwallsportsmedia.co.uk