Discover more from Cornwall Football
A newsletter about the beautiful game in Cornwall
⚽️ Cornwall Football: How Paul Rowe helps Plymouth Argyle to find the best young Cornish footballers
Plus, we hear from the St Austell and Newquay camps after the teams met on Saturday, and round up the midweek action.
Welcome to the latest edition of the Cornwall Football newsletter.
The response so far has been fantastic – thanks to all who have subscribed and shared.
We'd love to hear from businesses interested in becoming a Cornwall Football newsletter headline sponsor.
Twice a week, the newsletter drops straight into the email inboxes of our rapidly growing audience, where it is opened and read enthusiastically by a high proportion of recipients.
If you're interested in reaching those readers, and supporting us in our quest to promote local football, please drop us an email at: info@cornwallsportsmedia.co.uk
---
⬇️ Inside today's newsletter ⬇️
🟢 Talent spotting: How Paul Rowe helps Plymouth Argyle to find the best young Cornish footballers

🎯 Forwards finally find their feet as Lillywhites prevail

💪 Mousehole continue title bid with win at Brook

💚 Argyle come from behind to triumph again

👀 What's on this weekend
---
🟢 Talent spotting: How Paul Rowe helps Plymouth Argyle to find the best young Cornish footballers
By Colin Bradbury
Paul Rowe gets to more football games in the average week than most people. Plymouth Argyle's Head of Cornwall Recruitment and Development watches a range of youth games and Academy matches, as well as fulfilling his duties as manager of high-flying South West Peninsula League side Wadebridge Town in his (presumably non-existent) spare time.
"You'll find me on many a touchline during the week at school, county, and representative games, and of course grassroots games at weekends," he says. "On a good day I can get up to four games in. I'm looking to see if what's out there is as good as or even better than what we've currently."
Argyle have long scouted for players in Cornwall, but have stepped up their efforts considerably in the last couple of years. That was reflected in the appointment of Rowe to lead the club's efforts in identifying and developing talent in the Duchy, and the opening of two Elite Coaching Hubs in Penryn and Bodmin 18 months ago.
Argyle have always recognised the size of the talent pool in Cornwall and had a two-level structure in place until 2021 as part of their Player Pathway.
That consisted of Player Development Centres (currently seven across Cornwall) where youngsters participated in a training block of around six weeks. Promising players could then be offered a trial for the next level of the programme, the Centres of Excellence.
The next stop after that was the Academy in Plymouth. But the time and expense involved in travelling across the Tamar two or three times a week could be prohibitive, especially for those in the west of the county. Which could mean players with potential slipping through the net.
That's one reason that the Elite Coaching hubs were introduced as a third level of the player pathway, sitting between the Centres of Excellence and the Academy. To illustrate the difference this has made, Rowe gives the example of an under-11 player currently on trial with the Academy.
"Each week he'll go once to the hub in Penryn, once to the Bodmin hub and then once to the Academy in Plymouth," he says. "That's much less onerous in terms of travel – it's just not realistic for someone to travel from, say Penzance, to Plymouth three times a week. The hubs have made a big difference in terms of the geographic challenges we face."
Another advantage of the Hub model is the flexibility it gives in terms of player development. Recently a talented Cornish under-10 was identified playing for a Centre of Excellence against a Hub team. On that basis, he was sent for a trial at the Academy who asked that he spend some time in an Elite Hub working on specific points. After doing that he went back to the Academy where he was signed.
As Rowe says: "That's an example of the pathway working by the book. There's lots of flexibility within the system."
Rowe's main focus is on the under-7 to under-11 age groups. While he does keep an eye out for players older than that who might have been missed (Luke Jephcott, for example didn't come into the Argyle pathway until he was 14), the younger age group is key.
"You want to get them in earlier to get used to Academy life and to develop them at an Academy level," he says. "Look at some of the fixtures the under-8s have had over the last few weeks. They've been to Arsenal, Wolves and Cardiff — the experiences they get and the ability they gain compared to other lads that haven't had that opportunity are invaluable."
So how are players with potential to join the Argyle pathway identified? Cornwall is a big area and obviously Rowe can't be everywhere. While he has a wide informal network across the county as a source of player referrals, recently three fully registered scouts have come on board. Rowe says that they are already playing a crucial role:
"Scouts don't just spot – they can approach managers and parents in an official scouting capacity and get priceless information. They might find that a lad is playing up an age group, which they wouldn't know that unless they asked. They see that and think 'we've got one here.' We don't have everywhere covered yet but it's a really positive start."
Rowe is also quick to give credit to Cornwall's grassroots clubs.
"By and large, the clubs have been terrific," he says. "Of course, we have to be a bit careful because a lot of Academy stuff happens on Sundays when grassroots matches take place. There's a lot of give and take, and I don't take the support of the grassroots clubs for granted. I'd like to think that the teams we've got a lot of these players from appreciate that I've been really fair to them.
"The grassroots clubs are the lifeblood of what we're trying to do. Our goal is to develop the players, but you should never underestimate the great work that the local coaches put in, and how well they develop the players. Working alongside them is vital and I think that's going really well."
Rowe points out that Argyle also want to contribute to developing the standard of football coaching across Cornwall. The club runs coaching development events in conjunction with the Cornwall FA, and in recent months Kevin Nancekivell (Argyle first-team coach) and Darren Way (Argyle under-18s coach) have been down in the county to participate in sessions.
"This really helps perception of Argyle with the local coaches," Rowe says. "Last time he was in Cornwall, Nance (Kevin Nancekivell) invited the coaches to go up to Plymouth to watch a first-team training session. Several took up the offer and were given a great insight into Argyle's coaching methods.
"It certainly makes my job easier when Argyle look after grassroots coaches like that. It's all part of the way the club interacts with the Cornish community."
Once promising players have been identified, Rowe gets to do what he calls: "…my favourite part of the job. A big part of what I do is assessing players in person.
"On a good day I can get up to four games in, but usually two or three. I've already got an idea of who I want to go and see. It could be on the back of a recommendation from a manager or something our spotters have seen. Then I go and follow those up to watch the players.
"You get a feel for what you're looking for. Generally, we're after the very best grassroots players that we don't have in our pathway currently."
These efforts have really started to deliver in terms of the numbers in the Hubs and the volume of Cornish players going into the Academy.
"The numbers in the Hubs have swollen from round about 60 to about 140 players across the two locations," Rowe says. "Things have evolved quickly, and the quality has gone up as well. The number of under-8s, -9s and -10s going up from Cornwall into the Academy age groups in Plymouth has jumped significantly since the Hubs started.
"For example, about 50 percent of under-10s in the Academy are from Cornwall which is quite a jump. It's a similar story with the under-9s — maybe not quite so high a proportion but still a very healthy number."
All of which, combined with a wide range of other activities west of the Tamar and success on the pitch continues to boost Argyle's profile and reputation in Cornwall.
"I was talking to a parent at a Cornish club the other Sunday, and they'd been up with the kids the previous day to do the matchday experience at Home Park," Rowe adds. "Argyle made a big fuss of them, with photos and a stadium tour etc.
"There's so much good work going on at Argyle that there's a lot of goodwill towards the club in Cornwall. I've certainly noticed a difference over the last 12 months.
"I went to my local pub in Wadebridge the other week to watch the Carabao Cup Final. It was full of Man United fans, but everyone was talking about Argyle. People were buzzing about how well it's going at Home Park — the interest down here is huge and for me, it's great to be a part of that. Promotion would just kick things on again."
With Argyle's big push in Cornwall, some might be concerned about the club hoovering up all the best young talent in Cornwall. But of course, only a small percentage of the youth players who go through the Argyle pathway will go on to join the Academy, let alone to play for the first team. The rest will have received a first-class grounding in football skills and will continue to play for their schools and a Cornish club. That's pretty much the definition of a win-win situation.
"A few years ago, talent identification in Cornwall was very informal," Rowe concludes. "Now there's a clear focus on finding and developing the best players down here. The level of ability in Cornwall is as good as anywhere in Plymouth or Devon — we just have the extra challenges of distance.
"The club's ambition is to have lots of local footballers in the first team of a sustainable Championship club. The substantial investments they have made in the whole youth and Academy setups recently certainly reflect that."
---
📰 Sponsor this newsletter
Are you a business interested in supporting the Cornwall Football newsletter through sponsorship or advertising?
Drop us a message on: info@cornwallsportsmedia.co.uk and let's talk.
---
🎯 Forwards finally find their feet as Lillywhites prevail
By Tom Howe
The benefits of man management were on show for all to see at Poltair Park on Saturday, where St Austell's previously misfiring frontline combined to secure a third consecutive triumph for their side.
Stand-in managers Gary Wheildon and Steve Wheatley — alongside regular chief Mark Smith, despite currently being away on work duty — have put their nose to the grindstone to address the Lillywhites' issues in front of goal.
A return of 28 from 22 South West Peninsula League outings — an average of 1.27 a game — was one strand of the inconsistency that has proved St Austell's Achilles heel in recent times.
However, a word in the ear worked wonders for the likes of Chris Kilbey, Tyler Cheshire and Zack O'Connor who each had a hand in an impressive 3-1 win over a Newquay side who had begun the weekend two places and eight points farther up the standings.
"We are quite a friendly bunch but have had to have a chat with a couple of players," Wheildon told Cornwall Sports Media at the final whistle. "They have been playing really well, working hard and their commitment has been great. There is no fault in terms of their effort but they are forward players and we emphasised we need a little more in terms of goal and assist contributions from them.
"It really struck home [on Saturday]. Kilbs, Zack and Tyler… they were the boys that we had had a word with. They had been playing fine but we needed more out of them and they really delivered. I am really impressed with how the boys dug in and we deserved [our win].
"We have had a funny season where we have threatened to get going and then not performed. We have not really built any momentum and, with all due respect to Launceston and St Dennis [beaten by St Austell in the games immediately preceding Newquay's visit], they were teams that we like to think we would have beat.
"Newquay were above us in the league and we knew it would be a tough one. To grind something out was really impressive but we are really only making up lost ground. It is going to be a tall order to move into a position in the table that we feel really reflects what we are capable of. All we can do is try to string some performances together."
The view from the away dugout, that of Newquay's boss Craig Ainslie, was one of steadfast realism. Missing the tenacity of Connor Wharton, the experience of Nick Boase and the creativity of Cam Turner left the former Peppermints defender needing to shuffle his pack.
Having not conceded three goals in a game since October's draw at Wadebridge Town, Newquay have been rather more porous in albeit rare back-to-back defeats against Callington Town (5-2) and St Austell (3-1).
Speaking prior to Wednesday's 1-1 draw at title challengers St Blazey, Ainslie was all the same adamant the team is continuing to progress in the right direction and moved to play down any potential panic in the ranks.
"We played some nice stuff and were happy with our shape and positioning," he reported from the touchline at Poltair. "There was lots of positivity but, in the second-half, we defended too softly for my liking. We have not conceded three amazing goals and are culpable for parts in all three through a lack of desire to defend properly, which is a shame.
"At the other end of the pitch, we have been a bit toothless. We have played through the thirds nicely and I thought our midfield three dominated that area of the pitch. I just felt the defensive and attacking thirds didn't do enough. With the combination of those two things, you are always at the mercy of the opposition grabbing a goal.
"It is the first time that we have lost two games in a row. We have been good this year and are working within the limitations that the club has. There is a lot to be happy about and a lot of progress. We have seen a lot of bodies leave this year but have still managed to keep the results there.
"It is about finishing the season strongly. We don't want to peter out and drop down the table, a bit like what happened last year. It is on us now to put in the performances. There are some fresh faces and good young players who will be looking to stake a claim in the squad for next season."
---
💪 Mousehole continue title bid with win at Brook
Mousehole moved to within three points of the Western League Premier Division summit after edging past Cornish rivals Millbrook at Jenkins Park on Tuesday night.
Jack Bray-Evans scored the only goal of the game in the second minute when he coolly tucked home a cross from the centre of the box to secure the Seagulls' 20th win of the campaign.
Jake Ash's side are now three points behind leaders Saltash United but have three games in hand on Danny Lewis' side…
📋 Millbrook: Crump, Foster, Goodman, Goulty, Johnson, Knight, Love-Holmes, Mead-Crebbin, Richards, Wood, Youlden. Subs: Cox, Hunt, Mahoney, O'Melia, Toulson.
📋 Mousehole: Chenoweth, Gafaiti, Fraser, Burt, Otto, Hill, Turner, Calver, Goldsworthy, Bray-Evans, Thomson. Subs: Bissett, McOnie, Mitchell.
📈 The top of the Western League:
Saltash United, 69pts

Mousehole, 66pts

Bridgwater United, 57pts

Buckland Athletic, 56pts

Barnstaple Town, 54pts
---
Meanwhile, in the South West Peninsula League:
Liskeard Athletic 5-0 St Dennis

A Ben Collins brace and further goals from Harry Jeffrey, Max Gilbert and Finn Bartlett helped Liskeard record a comfortable victory over the Saints on Wednesday night. The win is the Blues' 15th from 22 games this season and lifts them above Bude and into fourth.

Andy Watkins' late finish rescued a point for title challengers St Blazey at home to Newquay, who had led through Jake Shaw's edge-of-the-box effort just before half-time.
St Blazey are now nine points behind tabletoppers Wendron United but still have five games in hand on Michael O'Neill's side. Liskeard's win takes them to within six points of Blazey with both sides having played 22 games.
📈 How it looks at the top of the SWPL:
Wendron United, 64pts

Wadebridge Town, 57pts

St Blazey, 55pts

Liskeard Athletic, 49pts

Bude Town, 49pts
---
💚 Argyle come from behind to triumph again
Plymouth Argyle simply do not know when they are beaten.
The Pilgrims' dreams of Championship football looked to be suffering a setback when they went 1-0 down at home to promotion rivals Derby County on Tuesday night, but once again the Greens rallied to triumph 2-1 at Home Park.
Nathaniel Mendez-Laing put Paul Warne's Rams in front midway through a dire first half from an Argyle perspective, but Steven Schumacher's side responded after the turnaround as Callum Wright and Ryan Hardie secured a huge victory…
⚽ Behind: Mendez-Laing beats the Argyle offside trap and while the powerful forward's first effort is blocked by Callum Burton, he is able to take the ball around him and slot into the empty net. 0-1 (19')

⚽ Leveller: The Pilgrims are back on terms when Jay Matete finds Finn Azaz who plays in Wright on the right of the box, and the substitute steers the ball past Rams custodian Joe Wildsmith. 1-1 (59')

⚽ Penalty: Argyle come from behind again! Azaz is tripped in the box by Harvey White and Hardie calmly sends Wildsmith the wrong way from the spot. 2-1 (70')
📋 Argyle: Burton, Gillesphey, Houghton (Matete 55), Wilson (Bolton HT), Butcher, Edwards (C Wright 55), Hardie, Mayor (Miller 78), Mumba, Azaz (Ennis 86), Lonwijk. Subs (unused): Parkes, Waine.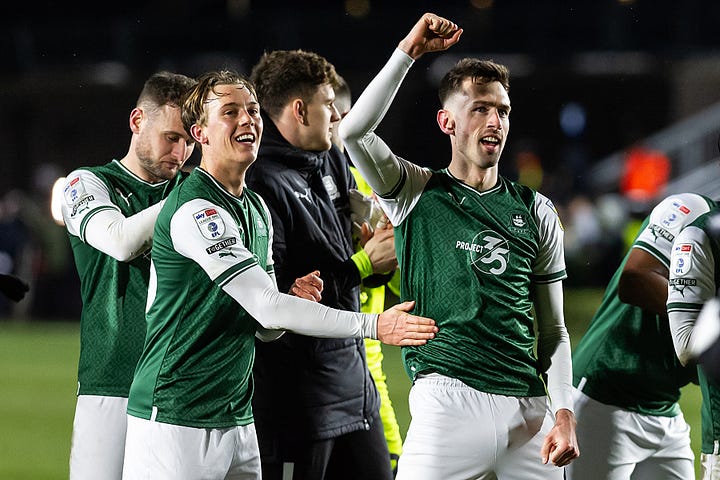 "That second half performance, in my opinion, is everything that this club should be about. Fans right behind the team, the team fighting for every ball, passing the ball really well, being exciting to watch and going away with another huge three points."
Argyle are now level on points with leaders Sheffield Wednesday with the Owls enjoying two games in hand on the Pilgrims. Derby County and Bolton Wanderers are now effectively out of the race for automatic promotion, but wins for Ipswich Town and Barnsley - who also have two games in hand - keep them hot on Argyle's heels...
📈 A glance at the top of League One:
Sheffield Wednesday, 74pts

Plymouth Argyle, 74pts

Ipswich Town, 69pts

Barnsley, 63pts

Bolton Wanderers, 63pts
---
👀 What's on this weekend
⚽️League One: Saturday, 3pm: Barnsley v Plymouth Argyle.
⚽️Southern League Premier South: Saturday, 3pm: Merthyr Town v Truro City.
⚽️Western League: Saturday, 3pm (unless stated): Ashton & Backwell United v Helston Athletic; Ilfracombe Town v Mousehole; Keynsham Town v Saltash United; Millbrook v Clevedon Town; Wellington v Falmouth Town.
⚽️South West Peninsula League Premier West: Saturday, 3pm: Bodmin Town v Mullion; Camelford v Callington Town; Dobwalls v Newquay; Liskeard Athletic v Sticker; St Austell v Penzance; St Blazey v Launceston.
🏆Cornwall Women's Cup semi-finals: Sunday, 2pm: Foxhole Stars v Liskeard Athletic; Mousehole v Helston Athletic.
⚽️FA Women's National League Division One South West: Sunday, 2pm: Maidenhead United v St Austell.
⚽️South West Regional Women's Football League Premier Division: Sunday, 2pm: Liskeard Athletic v Warminster Town.
⚽️South West Regional Women's Football League Western Division: Sunday, 2pm: Saltash United v Marine Academy Plymouth; Sticker v Budleigh Salterton.
---
📰 Sponsor this newsletter
Are you a business interested in supporting the Cornwall Football newsletter through sponsorship or advertising?
Drop us a message on: info@cornwallsportsmedia.co.uk and let's talk.
---
See you on Monday!
Follow us on Twitter: @sportscornwall
Follow us on Facebook: @cornwallsportsmedia
Follow us on Instagram: @cornwallsportsmedia
Visit our website: cornwallsportsmedia.co.uk