Discover more from Cornwall Football
A newsletter about the beautiful game in Cornwall
⚽ Cornwall Football: Helston Athletic end 86-year wait for Senior Cup glory
It was an historic Easter Monday for Helston as they beat Millbrook to win the Cornwall Senior Cup for the first time since 1937. We've got exclusive reaction from a day to remember for the Blues...
Welcome to the latest edition of the Cornwall Football newsletter.
The response so far has been fantastic – thanks to all who have subscribed and shared.
We'd love to hear from businesses interested in becoming a Cornwall Football newsletter headline sponsor.
Twice a week, the newsletter drops straight into the email inboxes of our rapidly growing audience, where it is opened and read enthusiastically by a high proportion of recipients.
If you're interested in reaching those readers, and supporting us in our quest to promote local football, please drop us an email at: info@cornwallsportsmedia.co.uk
---
⬇️ In today's newsletter ⬇️
🏆 REPORT: Searle is penalty hero as Blues end 86-year wait for glory

🙌 Cusack praises players for 'getting over the line'

'One of my proudest moments in football' — Massey

📸 The story of the final in pictures

🥇 Cup-winning skipper Storey keen to keep success coming

'This is a day for the people of Helston' — Hendy

👏 Millbrook chief hails 'character and fight' of young side

🐯 Derby defeat effectively condemns City to play-offs

🤯 Western: Torpoint triumph in nine-goal thriller

✅ SWPL: Blues climb to third after slender win

💚 Argyle slip to home defeat against Lincoln

👀 What's on this weekend
Enjoy. 〓〓
---
🏆 REPORT: Searle is penalty hero as Blues end 86-year wait for glory
Helston Athletic 2, Millbrook 2 AET
Helston won 5-3 on penalties
By Gareth Davies at Blaise Park
Goalkeeper Mike Searle was the Helston Athletic hero as the Blues won their first Cornwall Senior Cup final for 86 years on penalties.
In front of a crowd of 643 at Blaise Park, home of St Blazey, Helston were pushed all the way by Millbrook in a match that finished 2-2 after extra time.
Searle, who was at fault for both Millbrook's goals, kept out the Magpies' first spot kick from skipper Jack Wood before Helston successfully scored all five of their attempts to claim Cornish football's top knock-out prize.
Despite the late drama it was a match low on quality, although for long periods an enthralling watch nevertheless as underdogs Millbrook matched much-fancied Helston for large spells.
The Blues drew first blood inside the opening ten minutes when a long ball from Harrison Jewell found Rikki Shepherd in on goal. Shepherd, a former Millbrook favourite before moving to Kellaway Park last summer, showed great strength and determination to win the ball and lift it over custodian Jake Mead-Crebbin. 
And another ex-Millbrook player Tom Payne nearly doubled Helston's lead shortly after when his free-kick curled just past the post.
But that was as good as it got for Helston in the opening stanza as Millbrook dominated territory and possession without testing Searle. Led by the outstanding Wood, who curiously didn't pick up the Man of the Match award, Mackenzie Brown's side saw Tyler Elliott and Sam Carter avert danger after crosses from Caleb Summerfield and Kieran O'Melia nearly resulted in an equaliser. 
As the interval approached, a rare foray forward from Helston saw Payne skew horribly wide when well placed.
The opening exchanges after the break were cagey with neither side creating a chance of note until the 65th minute when Millbrook drew level. O'Melia's free-kick wasn't dealt with by Searle and Ben Goulty nipped in to bundle the ball over the line. 
It was nothing more than Millbrook deserved and bar two Helston half-chances which found the side-netting as the half wore on, the teams couldn't be separated meaning extra time. 
Just 90 seconds into the additional 30 minutes, Helston had a wonderful chance to take the lead again when Shepherd was denied by the legs of Mead-Crebbin. However, Payne once again failed to find the target and shot wide. 
But in the second period of extra time, Payne made amends for his earlier misses with a brave header to put Helston back in front. 
That wasn't the end of Millbrook though as from the restart, they won a corner which O'Melia delivered for Ed Goodman to head home. Again Searle was at fault but his chance of redemption would come as after 120 minutes, the destination of the cup would be decided on penalties.
Payne stepped forward to open Helston's account before Searle brilliantly denied Wood. Substitute Jordan Copp gave the Blues a two penalty cushion but Sean Thomson got Millbrook off the mark to halve the arrears.
Elliott restored Helston's two penalty advantage only for Ryan Knight to make the score 3-2. The shoot-out was delayed while Teigan Rosenquest put his shin pads back on but the stoppage made no difference and Helston were just a penalty away from glory.
They thought the winning moment had arrived when Goulty's effort hit the post and with Searle celebrating, the ball hit the Helston gloveman and crossed the line.
The wait for confirmation of a first Senior Cup triumph since 1937 didn't last long for Helston as Jamie Simmonds coolly slotted home past Mead-Crebbin to spark wild Athletic celebrations.
Match information
Helston Athletic: Searle, Elliott, Rosenquest, Storey, Jewell, J Bentley, Colwell, Payne, Wilson, Shepherd, Carter. Subs: Simmonds, Burdon, Bye, Copp, A Bentley. 
MIllbrook: Mead-Crebbin, Murray, Wood, Greening, Goodman, O'Melia, Thomson, Summerfield, Foster, Richards, Goulty. Subs: Youlden, Toulson, Johnson, Love-Holmes, Knight.
Referee: Mark King; Assistants: Bryan Holden and Max Davies
Attendance: 643
---
🙌 Cusack praises players for 'getting over the line'
By Gareth Davies at Blaise Park
Helston Athletic manager Matt Cusack says his team 'found a way' to win the Cornwall Senior Cup for the first time since 1937.
The showpiece event in the Cornish footballing calendar was decided on penalties after the Blues and Millbrook had played out a 2-2 draw which was low on quality, but a compelling watch nevertheless.
Twice Cusack's troops took the lead through former Millbrook players Rikki Shepherd and Tom Payne but on both occasions, the Magpies pegged Helston back and the game went to penalties.
Blues custodian Mike Searle, who was perhaps at fault for both Millbrook goals redeemed himself in the shoot-out to save Jack Wood's effort. Helston then kept their composure to score all five of their penalties with the winning spot kick coming from substitute Jamie Simmonds.
"This is my fifth Senior Cup final and I've never had one go to penalties," Cusack told Cornwall Sports Media at full-time. "It is nice to be on this side of a victory, but I must start by paying tribute to our opposition Millbrook because they have taken us all the way to penalties.
"We came into the game in fantastic form, unbeaten in 13 games in all competitions and today's win takes us to 14. But form goes out the window in cup games and I said this to the boys at half-time, when they were feeling sorry for themselves. 
"I told them that if they thought Millbrook were going to come here and roll over, then they were very much mistaken as this is a cup final, where teams give every inch they've got for their shirts.
"From our point of view, we are disappointed with the goals we conceded and I know Searley will be because they are bread and butter crosses, although a swirling wind was a factor. He redeemed himself in the penalty shoot-out with that save early on and I'm made up for him.
"I want to praise my whole team though because we found a way to get the job done and I've said to them many times before, in cup football, the result is all that matters.
"A performance would be nice, but what matters in a final is getting over the line and we have done that."
'One of my proudest moments in football' — Massey
Cusack, who joined the Kellaway Park outfit last summer after he chose to leave Southern League Premier bound Plymouth Parkway, also reserved praise for his director of football Steve Massey who had never tasted Senior Cup glory before Helston's triumph. 
"I'm delighted for Mass and I didn't realise that he's been in local football so long and never won the Senior Cup final," added Cusack. "That's quite astonishing really given the success he's had with the teams he has managed in the past.
"It is a statistic that is now completed because he has got his hands on the trophy and we're made up for him."
Meanwhile, Massey himself, who enjoyed a professional playing career which included famous European nights for one of his former clubs Wrexham, admitted that Helston's cup win was one of his career highlights to date.
"It's one of my proudest moments in football," he told Cornwall Sports Media. "But if anybody would have told me that it would have taken me 35 years after making my debut in Cornish football for Truro City, to win the Senior Cup, I would have told them they were having a laugh.
"I felt like that wait may have gone on a little longer when Millbrook scored their second equaliser but we've done it and I don't think it's properly sunk in yet.
"I actually felt the penalties were a bit of an anti-climax but perhaps it is one of the best ways to win. For the losers, it's not so good and I thought Millbrook were great overall.
"It was a shame for the boy Wood, their skipper, who missed the decisive penalty because I thought he played really well and was top notch for them.
"At the end of the day though, I've waited a long time for this and Helston as a club have waited even longer so we are going to just enjoy the moment."
---
📸 The story of the final in pictures
---
🥇 Cup-winning skipper Storey keen to keep success coming
By Matt Friday at Blaise Park
Helston's cup-winning captain Josh Storey believes more success is on the horizon after the Blues finally got their Senior Cup monkey off their back.
Storey became the first Blues player to lift the coveted trophy for 86 years when he held it to the sky on the Blaise Park pitch on Easter Monday, and after savouring a day that will live long in the memory, he feels he and his team-mates have now got the taste for success.
"It's been long enough. I think it was 1937 when we last won it, and I'll tell you what, the boys deserve it this year," he told Cornwall Sports Media. "They've deserved it for a few years with the way the club's going. The people behind the club — Paul [Hendy], Sandra [Egan], Mass [Steve Massey], everybody — they all deserve this.
"I think the hard work we put in this year started with Cuzi [Matt Cusack] coming in. We've put our foot down on what we want to achieve now, and like they say, when one cup comes, a few follow after, so hopefully we carry on the way we're going.
"Now that we've gone so long without it, it does feel weird winning something and I think now that we've got that feeling and we know what it's like — all the boys are taking photos with their kids with the trophy and everyone [is loving it] — I think we're now hungry more than ever to go and win a few more."
Storey paid further tribute to Cusack and Massey for giving him the captaincy this season despite his tender years. Storey assumed the role aged just 20 shortly after Cusack's arrival at the club last summer, and he has repaid that faith by leading the team through a memorable campaign.
"Mass and Matty this year have trusted me with the captaincy and I can't thank them enough for it," he said. "It's always an honour leading out some of the boys who have got years of experience on me, but they still respect me for who I am and what I've done, so it's a real honour to lead the team out and it's a great bunch of lads."
'This is a day for the people of Helston' — Hendy
Blues chairman Paul Hendy dedicated the team's historic cup success to the people of Helston in the aftermath of their dramatic Senior Cup final victory.
Hendy took over as chairman nearly ten years ago and has overseen the first team's transformation from South West Peninsula League Division 1 West challengers into a side now pushing for Southern League football.
But while the men's first team's fortunes will naturally grab the headlines, it is testament to his hard work — and that of many others connected to the club — over the years that the Blues are also represented in this year's Cornwall Women's Cup and boys under-18s and under-16s county cup finals, while their under-14s and under-13s counterparts could yet join that list too.
With a burgeoning youth setup and a local hotspot in the form of their Kellaway Park clubhouse, Helston Athletic Football Club is very much a pillar of the community, and their success on Easter Monday will be met with delight around the town.
Their long-awaited second Senior Cup triumph is a clear marker in terms of the club's current upward trajectory, and with the way the club is heading both on and off the pitch, it is safe to assume that the Blues shouldn't have to wait 86 years for the next one.
"I'm almost speechless, to be honest. I'm lost for words," Hendy told Cornwall Sports Media. "It wasn't the way I wanted it to go, I didn't want it to go to penalties but I think I knew once we scored that first one that unfortunately they'd miss.
"From their perspective it's a cruel way to finish a game of football, but we've won the cup and it's great to take it back to Helston. I'm so pleased for the team and everyone involved with the club but more importantly for the people of Helston, they've waited so long for this and I just can't wait to get the cup back to Kellaway Park.
"It'll be my tenth year as chairman this year and we've moved forward [since I began]. It's been little steps, Steve [Massey] came in and then we brought Matt [Cusack] in this year and Steve moved up into the director of football role and it's stepped up another level, and getting the trophy today is superb.
"I think Matt and Steve have been the motivators from the top from the football perspective and they are supported by many, many others. This is a day for the club and this is a day for the people of Helston."
---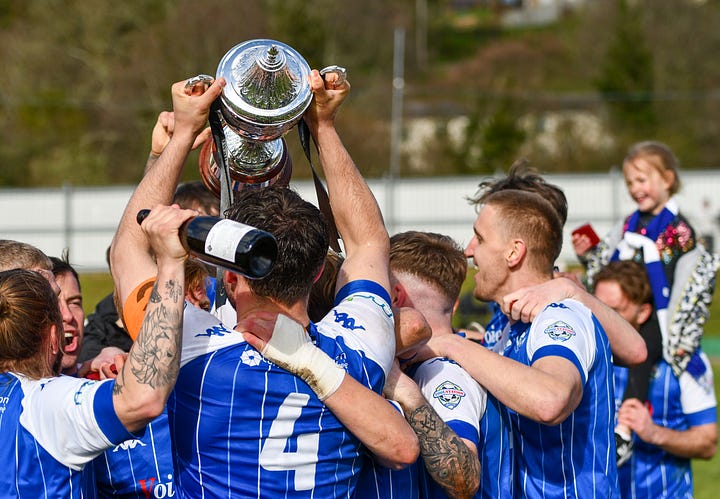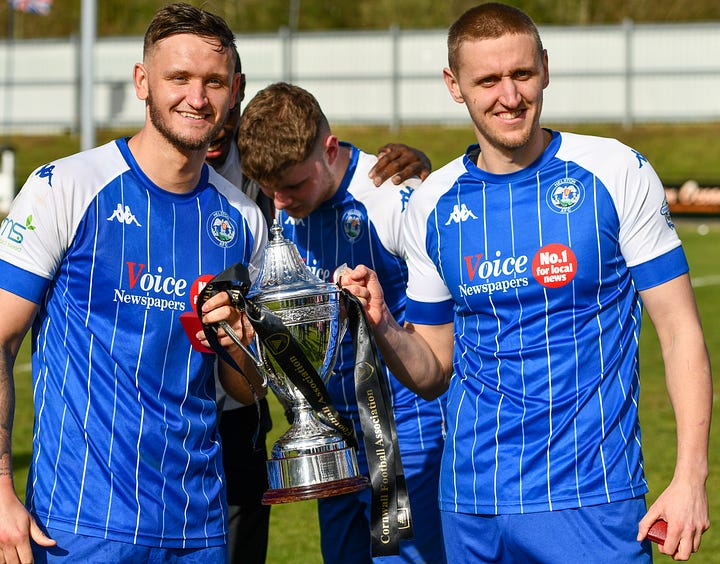 ---
👏 Millbrook chief hails 'character and fight' of young side
By Gareth Davies at Blaise Park
Emotional boss Mackenzie Brown praised the 'character' and 'fight' displayed by his Millbrook side after they suffered penalty heartache in yesterday's Cornwall Senior Cup final against Helston Athletic. 
Playing their first final for 24 years, Millbrook defied their underdogs tag to take the game into a penalty shoot-out after dominating a large chunk of the match and additional 30 minutes of extra time.
Brown's side, who defeated last year's runners-up Wendron United to book their place in the final, twice fell behind in front of 643 spectators at Blaise Park. However, they battled back on both occasions to level thanks to goals from Ben Goulty and Ed Goodman.
With the scores locked at 2-2 penalties ensued and crucially, Millbrook's first spot kick from their outstanding captain Jack Wood was saved by Helston incumbent Mike Searle.
The Blues then dispatched all five of their spot kicks to lift the Cornwall Senior Cup for the first time since 1937.
"I don't really know what to say if I'm honest," Brown told Cornwall Sports Media at full-time. "We have shown everything that we're about today but it wasn't just enough. That's character, fight and after going behind so early, that could have been a bad day for us.
"When you're caught up in a game, it's very difficult to see how a neutral will view a game, but there was a period in the second half when we changed things that put us well on top and whenever we were on top, we scored.
"I know we scored from set-pieces, but there was a reaction from us. After that, it went back to Helston being in control of the ball and us the game.
"But penalties are a cruel way to lose and it would have been the same for either team. In all honesty, Helston didn't deserve to lose and it was a typical cagey final with not an awful lot of quality."
Despite Millbrook's heartbreaking reverse, Brown remained upbeat and predicted a bright future for his team that continue to defy the odds. Despite the loss of both Rikki Shepherd and Tom Payne to Helston last summer, with both former Millbrook favourites netting in the final, Brown has rebuilt his side and continues to believe in young players with a number of his latest crop taking their place in his final squad. 
"These young boys today, five or six of them who are teenagers, I'd be amazed if this is the only final they ever play in, whether that's for Millbrook or anyone else," he added. "Over the next 10 to 15 years, they will be regulars on the local football scene and look back at this day and hopefully it will be their only defeat in a cup final."
---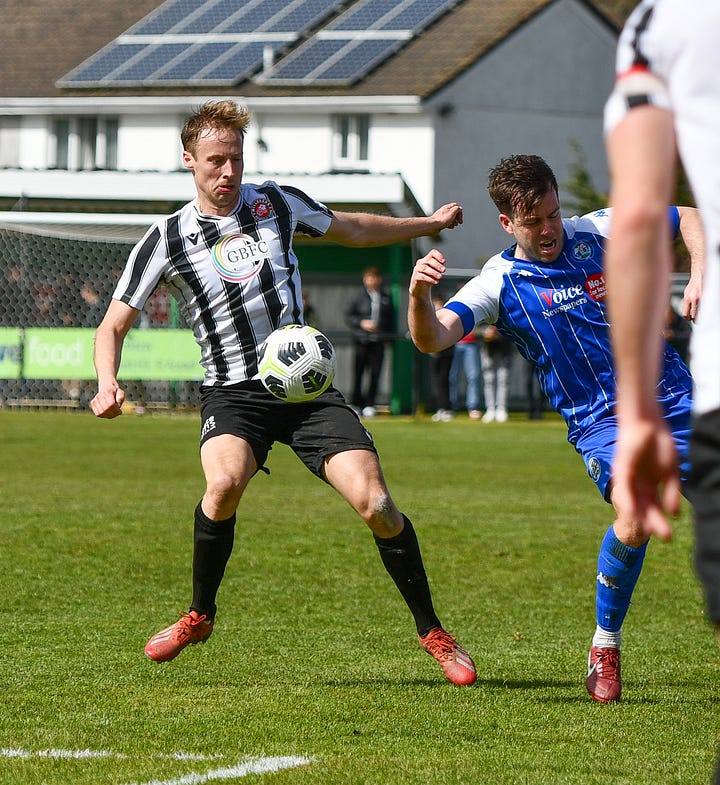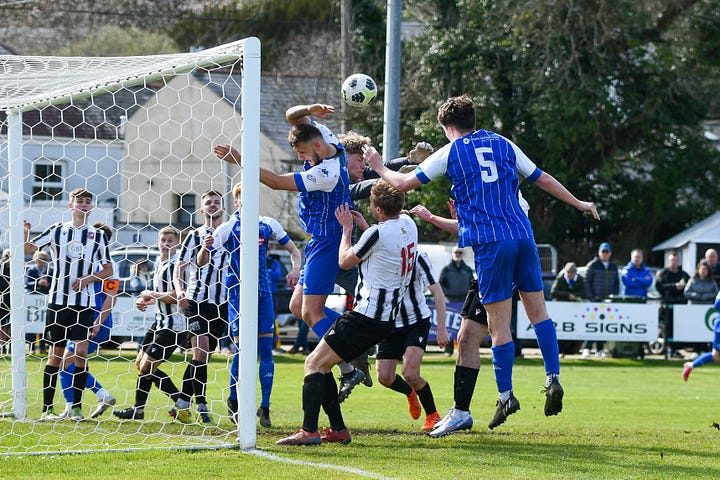 ---
📰 Sponsor this newsletter
Are you a business interested in supporting the Cornwall Football newsletter through sponsorship or advertising?
Drop us a message on: info@cornwallsportsmedia.co.uk and let's talk. 
---
🐯 Derby defeat effectively condemns City to play-offs
It's going to take a minor miracle for Truro City to claim the Southern League Premier South title after a disappointing 3-1 defeat at 'home' to landlords Plymouth Parkway on Easter Monday.
After a superb hat-trick on Good Friday, City forward Dan Sullivan went from hero to zero after receiving his marching orders midway through the second half, with the ten men ultimately falling to defeat in the final ten minutes at Bolitho Park…
⚽ Super strike: Parkway take the lead through former City man Rio Garside, who finds the net with a rocket from 20 yards. 0-1 (28')

⚽ Level: Harvey Greenslade draws City level soon after when he meets Will Dean's cross and drives it past Parkway custodian Shaun Semmens. 1-1 (34')

🟥 Down to ten: Sullivan receives his marching orders after being shown a second yellow card in the space of six minutes. 1-1 (62')

⚽ Bad luck: Nightmare for Truro as Ryan Lane's cross goes all the way in via the far post. 1-2 (81')

⚽ Penalty: Parkway get the chance to seal it from the spot when James Hamon brings down Ben Seymour, and the Parkway man makes no mistake with the kick. 1-3 (90')
📋 City: Hamon, Craske, Riley-Lowe, Palmer, Dean, Sullivan, Brett (En-Neyah 80), White (Adelsbury 84), Knowles, Neal, Greenslade (Wright 75). Subs (unused): Haste, Okoro.
"The sending-off has changed the whole complexion of the game. Very, very poor, ill discipline. You can't do that when you're already on a booking, it's just ridiculous.
"I thought we were great with ten men and I didn't think we'd get broken down but the second goal is very, very fortunate, how it's ended up in the back of the net I'll never know.
"It's a disappointing day for us, I think we've let a big chance go there today. It's disappointing but we've got a massive game on Wednesday night that we need to recover for and go again."
Defeat for City and victory for Weston-super-Mare means Wotton's side are now nine points behind the Seagulls with just four games to go…
📈 The Southern League summit:
Weston-super-Mare, 86pts

—————————————

Bracknell Town, 81pts

Truro City, 77pts

Chesham United, 76pts

Poole Town, 74pts

—————————————

Swindon Supermarine, 68pts

Hayes & Yeading United, 61pts

Metropolitan Police, 61pts

Merthyr Town, 60pts

Beaconsfield Town, 56pts
---
🤯 Western: Torpoint triumph in nine-goal thriller
Bridgwater United 2-3 Falmouth Town

Tim Nixon scored his 17th goal of the season as Falmouth became the first away team to win at Fairfax Park this term. Nixon opened the scoring early on before Jack Taylor levelled for the Robins, with Olly Walker restoring the visitors' advantage. Jacob Spence equalised after the break but James Ward secured victory late on for Town, who also became the first team to do the league double over the third-placed Robins this season.

Keynsham Town 3-6 Torpoint Athletic

Ryan Richards scored a hat-trick as Torpoint prevailed in an exciting nine-goal affair at second-from-bottom Keynsham. Richards' first two goals and a Callum Thompson effort gave Dean Cardew's side a 3-2 lead at the break, with Curtis Damerell and Thompson making the game safe after the turnaround before Richards completed his treble.

Mousehole 2-0 Clevedon Town
Mark Goldsworthy returned to the Mousehole team after his recent injury lay-off to score what ultimately proved to be the winner after 24 minutes as the Seagulls defeated Clevedon to climb to the top of the table. Jack Calver made sure of the points deep into stoppage time with a sublime free-kick.
---
Saltash United's postponed trip to Ashton & Backwell United means Mousehole are now at the summit with both teams having finally played the same number of games…
📈 The top of the Western League:
Mousehole, 79pts

Saltash United, 78pts

Bridgwater United, 65pts

Buckland Athletic, 65pts

Barnstaple Town, 60pts

Helston Athletic, 56pts

Shepton Mallet, 55pts

Falmouth Town, 49pts

Clevedon Town, 43pts

Ashton & Backwell United, 42pts
---
✅ SWPL: Blues climb to third after slender win
Penzance 0-1 Liskeard Athletic

Dan Jennings' 34th goal of the season was the difference at Penlee Park as Liskeard eventually got the better of a spirited Magpies outfit. Jennings' effort takes him two clear at the top of the SWPL Premier West top goalscorer standings.
---
St Blazey will be champions tomorrow night if they get at least a draw at home to Sticker…
📈 The top of the SWPL:
St Blazey, 73pts

Wendron United, 67pts

Liskeard Athletic, 64pts

Wadebridge Town, 64pts

Bude Town, 52pts

Newquay, 47pts

St Austell, 38pts

Dobwalls, 36pts

Camelford, 35pts

Mullion, 27pts
---
💚 Argyle slip to home defeat against Lincoln
Plymouth Argyle's automatic promotion hopes suffered a setback as they fell to a 2-0 loss at the hands of visitors Lincoln City on Easter Monday.
Steven Schumacher's side came from behind to beat Morecambe 3-1 on Good Friday but were unable to repeat the feat against the mid-table Imps.
⚽ Breakthrough: The Imps surge ahead on 28 minutes with a swift three-pass counter attack, finished off by Olamide Shodipo, catching the hosts out. 0-1 (28')

⚽ Two down: Hopes of a second-half revival are snuffed out on 47 minutes as Lincoln's Ben House spins on the edge of the box and fires a low shot past Callum Burton in front of the visiting fans. 0-2 (47')
Argyle: Burton, Wilson (C Wright 61), Scarr, Butcher (Houghton 52), Edwards (Azaz 61), Hardie (Cosgrove 61), Mayor, Miller (Waine 52), Lonwijk, Matete, T Wright. Subs (unused): Parkes, Gillesphey.
"I keep saying, there's going to be twists and turns. All the teams are going to have issues in the run-in, but we don't want it to happen too many times. We want to try and play with confidence if we can. We understand there's going to be times you're going to have to dig in and show some experience.
"We're going to need our senior players to calm everyone down. It's hard when you're on the sidelines trying to influence things. We're going to need to stick together and try and find the way through, because it won't be easy in the next six games either.
"The lads are a good group. They don't mean to put bad performances in. Everyone's disappointed with the result, now we've got to try to put it right – and there's no better game than the one that's coming up on Saturday to try and do that."
The result drops the Pilgrims to second in the League One table, with the day's one consolation being a late Cheltenham Town equaliser that pegged back fellow promotion chasers Ipswich Town. Argyle now move on to a huge local derby against Exeter City at St James Park at midday on Saturday.
📈 The top of League One:
Sheffield Wednesday, 84pts

Plymouth Argyle, 83pts
—————————————

Ipswich Town, 82pts

Barnsley, 78pts

Bolton Wanderers, 70pts

Peterborough United, 68pts
Elsewhere at Home Park:
---
📰 Sponsor this newsletter
Are you a business interested in supporting the Cornwall Football newsletter through sponsorship or advertising?
Drop us a message on: info@cornwallsportsmedia.co.uk and let's talk. 
---
👀 What's on this week
⚽️League One: Saturday, 12pm: Exeter City v Plymouth Argyle.
⚽️Southern League Premier South: Wednesday, 7.45pm: Truro City v Bracknell Town. Saturday, 3pm: Truro City v Metropolitan Police.
⚽️Western League Premier Division: Wednesday, 7.30pm: Ashton & Backwell United v Torpoint Athletic. Saturday, 3pm (unless stated): Buckland Athletic v Millbrook; Cadbury Heath v Helston Athletic; Clevedon Town v Saltash United; Keynsham Town v Mousehole; Sherborne Town v Falmouth Town; Wellington v Torpoint Athletic (2pm).
⚽️South West Peninsula League Premier West: Wednesday, 7,30pm (unless stated): Bodmin Town v Mullion (7.45pm); Callington Town v St Austell; St Blazey v Sticker; St Dennis v Dobwalls. Saturday, 3pm: Bodmin Town v Dobwalls; Callington Town v Wendron United; Mullion v Wadebridge Town; St Dennis v Liskeard Athletic; Sticker v Newquay.
🏆Walter C Parson League Cup semi-final: Wednesday, 7.30pm: Liskeard Athletic v Newton Abbot Spurs (at Ivybridge Town).
---
See you on Thursday!
Follow us on Twitter: @sportscornwall
Follow us on Facebook: @cornwallsportsmedia
Visit our website: cornwallsportsmedia.co.uk